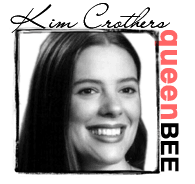 Queen Bee, Kim Crothers:
For me, scrapbooking was love at first BYTE!!! I discovered I could scrapbook on my computer in February of 2005 and I haven't looked back since! I've been designing my own papers and embellishments since my very FIRST layout! My background is in Fine Art/Graphic Design, so designing my own products just seemed totally natural when I was creating my pages. Then I started designing full-fledged kits and began selling them at Scrapbook-Bytes. Then came Creative Snaps!!!

Creative Snaps is my own, small, digital boutique that frequently has freebies and fun contests. The site was relatively easy to put toge ther since I was a web designer for WorldCom in my past life...heehee...before kids. Shortly after my site launched, Sony corporation contacted me to do digital scrapbooking projects for them. You can now find my designs on the SonyPictureStation (their photo kiosks) and on a new portable photo printer, the SnapLab, that was just released in 2006!

I just feel totally blessed by this hobby and all of the opportunities that have come way since I've been digiscrapping! And the absolute icing on the cake was winning a spot in the 2006 Creating Keepsakes Hall of Fame! It has truly been an awesome year, and I'm just trying to cherish every moment!

I'm a mom to two wonderful kids, Quinn (21.9 years) and Kacy (19.2 years). My husband, Kevin, is the best!! He couldn't be more supportive, encouraging, and helpful with all of this digital scrapbooking I've been doing!! They amaze me and inspire me everyday....and they are normally the subjects of my pages. Kevin and I will have our 7th anniversary this year! Wow how times fly! He works for a medical supply company and talks me into designing things for them as well!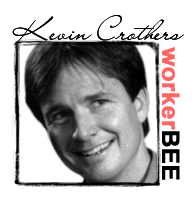 Worker Bee, Kevin Crothers:
Kevin began his IT career with 3 years of technical research for the Howard Hughes Medical Institute. He then spent 3 years as Systems Manager for the Mississippi Dept. of Environmental Quality - implementing the state's first Laboratory Information Management System (LIMS). In 1993, Kevin was asked to network and automate LDDS Communications in preparation for over 60 acquisitions - including WilTel, IDB WorldCom, MFS / UUNet, Brooks Fiber, SkyTel, CompuServe, AOL Network Services, and MCI, that ended up building MCI WorldCom, a Fortune 25 powerhouse that owned - and ran - over 50% of the Internet! Kevin, as department head of Corporate Web Systems, provided and lead corporate communications for all these acquisitions - throughout 47 countries, and in doing this, developed a number of award winning and globally recognized websites, communications models, and the most heavily used intranet site in the world.

Kevin then prepared for the CIO spot with First Choice Medical Supply by contracting with Health Management Associates (A.K.A. HMA, a network of nearly 50 hospitals) for a bit over a year, where he architected and administered a HIPAA-secure communications infrastructure and became familiar with the technical and financial abilities of the healthcare industry's two leading suppliers and First Choice's biggest competitors - Medline and McKesson. Kevin joined First Choice Medical Supply as CIO in 2003 to create and provide http://www.fcms.com/services, the most exciting, dynamic e-Commerce environment the eldercare industry has ever experienced.

He's on our team to help us create the most exciting, dynamic digital scrapbooking site that we can! New content will be added to our site EVERY WEEK, and Kevin plays a huge role in managing our online store and products!